Malibu Perot (マリブ・ペイロー, , Maribu Peirō?) is a member of the Twin Star Troupe. Malibu is reserved, thoughtful and enjoys reading.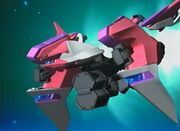 Malibu's first name comes from brand of rum made in Barbados called Malibu.
Ad blocker interference detected!
Wikia is a free-to-use site that makes money from advertising. We have a modified experience for viewers using ad blockers

Wikia is not accessible if you've made further modifications. Remove the custom ad blocker rule(s) and the page will load as expected.