Galaxy Angel Party
Writer(s)
Various Artists
Artist(s)
Various Artists
Publisher
BROCCOLI
Date Published
2004

Galaxy Angel Party (ギャラクシーエンジェル パロディ-Galaxy Angel Parody) was a manga series released in 2004 by BROCCOLI Books that focused on expanding the story of the original manga and further developing characters through small, one off stories written and drawn by various artists.
Volume 1
Edit
"The Angel Troupe is just about done with their current mission to deliver over a million dollars to the Bank of Transbaal, when Milfeulle accidentally opens the hatch and loses it in space. In order to keep their jobs, the Angel Troupe needs to raise money, and fast!" -Volume 1 Back Cover
Written and drawn by: Kanan, Misaki, Guy Nakahira, Bota Hanayashiki, Kazuki Shu, Seara, Chisa Mori, Yuzuru Asahina,Yuuma Suzuka, Kotimi Nekoma, Yuu Nanahara, Hanamaru Togawa, Akari Kita, Hina, and Chata Tachibana.
Volume 2
Edit
"Things are getting a little weird for the Angel Troupe. Mysterious forces haunt the Elle Ciel, wreaking havoc on Mint's favorite dessert. Worse still, the Angels are sent on a mission to the Planet of No Return, and Vanilla has to adjust to the responsibilities of motherhood. But none of this can prepare the Angels for the strangest thing of all. Forte has a date! What kind of party is this, anyway?" - Volume 2 Back Cover
Written and drawn by: Kanan, Ponta Sugawara, Natsume Hidaka, Nakasa Sakanaya, Seara, Yoshie Mikami, Tsukasa Hazakura, Makoto Wakabayashi, Kotomi Nekoma, Chisa Mori, Kazuki Shu, Aruto Suzuki, Misaki, Yuu Nanahara, Yuuma Suzuka, Jyuri Kamei, Chorii Harumaki, Botan Hanayashiki, and Akira Hayase
Volume 3
Edit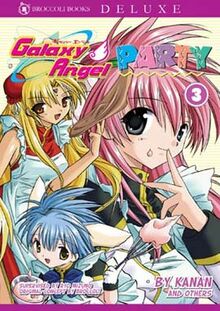 "When it's time to party, the Angel Troupe parties hard. And weird. Mint kicks things off with some cosplay taken to extremes. Even Lost Technology gets in on the act, with new artifacts showing up disguised as a coffee table, a puppy and even Santa Claus. Milfie will bring the cake and donuts, but who the heck brought the time machine!? Throw in a stray cat, a Normad makeover and a bit of gender bending, and you're in for one explosive party!"
Galaxy Angel Party Volume 3 was originally slated for a late 2005 North American release before being pushed back multiple times into 2006 before eventually having no updates, it is presumed to have been cancelled after BROCCOLI removed itself from the North American market in 2008. The only release of Volume 3 in North America was available in pieces on BROCCOLIs website posted in mid to late 2006. No further issues were announced or officially translated to the English Language.
External Links
Edit
English (For Purchase)
Edit
Ad blocker interference detected!
Wikia is a free-to-use site that makes money from advertising. We have a modified experience for viewers using ad blockers

Wikia is not accessible if you've made further modifications. Remove the custom ad blocker rule(s) and the page will load as expected.