Galaxy Angel Game Boy Advance: Moridakusan Tenshi no Full Course Okawari Jiyuu (ギャラクシーエンジェル ゲームボーイアドバンス 盛りだくさん天使のフルコースおかわり自由) is the first console game based on the first season of the Galaxy Angel anime.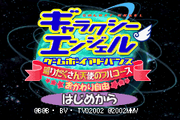 Single player, party-style board game. The main game mode consists of three boards played in succesion, the first and third being selected by the player from a common pool and a character specific second one. Each board has objectives to be completed or items to be recovered. Some of these boards are loosely inspired on episodes from the animated series. If another character acquires an item first, the player can try and ocupy their same space on the board to challenge them, via minigame, for the posession of said item.
Characters have different attributes that modify their chances with dice rolls, grant randomly a few extra steps when moving on the boards and other small gameplay nuances.
A number of unlockable gallery pictures, short clips, animations and other features can be unlocked by reaching certain spaces on the boards, completing the game with every character or purchasing them from the games's item shop. A practice mode for each minigame can be accesed after encountering each one at least once. An unlockable mode changes the Angel's sprites to a minimalist chibi design.
External Links
Edit
Download Link (You need a GBA PC Emulator to work the game.)